Wireless Audio-360 WAM3500
360 Omni directional sound

Easy Intuitive Control

Multiroom App
The Story of Wireless Audio – 360
The establishment of a new state-of-the-art audio lab in the U.S. marks a new step in Samsung mission to develop groundbreaking sound devices. Our top audio researchers and engineers have applied new methods of transduction and advanced computer modeling to bring you world class audio products.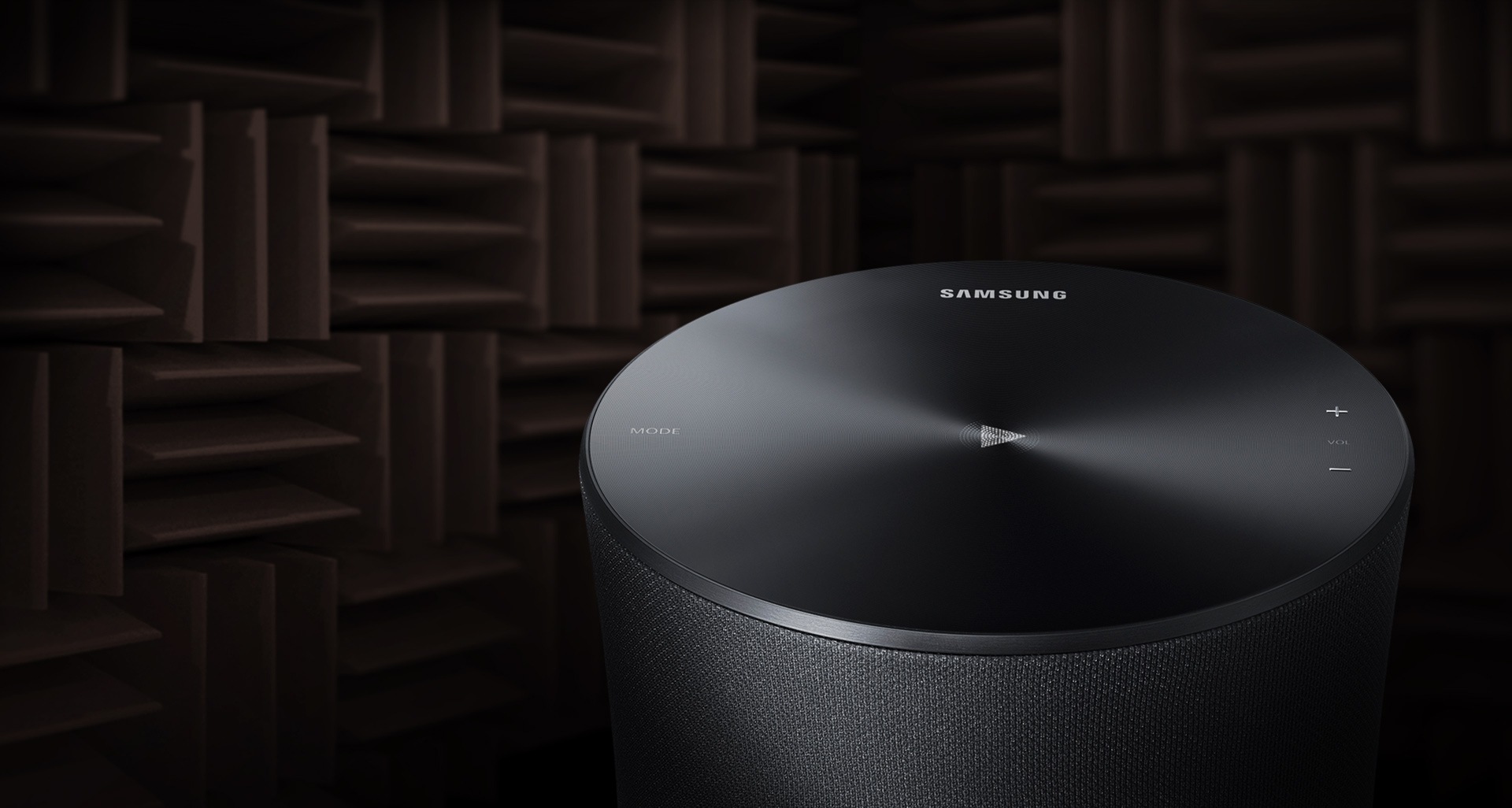 360 Omni-directional Sound
Unlike conventional speakers that project sound in a single direction, Wireless Audio – 360 fills the entire room with sound, thanks to Samsung's Ring Radiator technology which disperses sound evenly in all directions.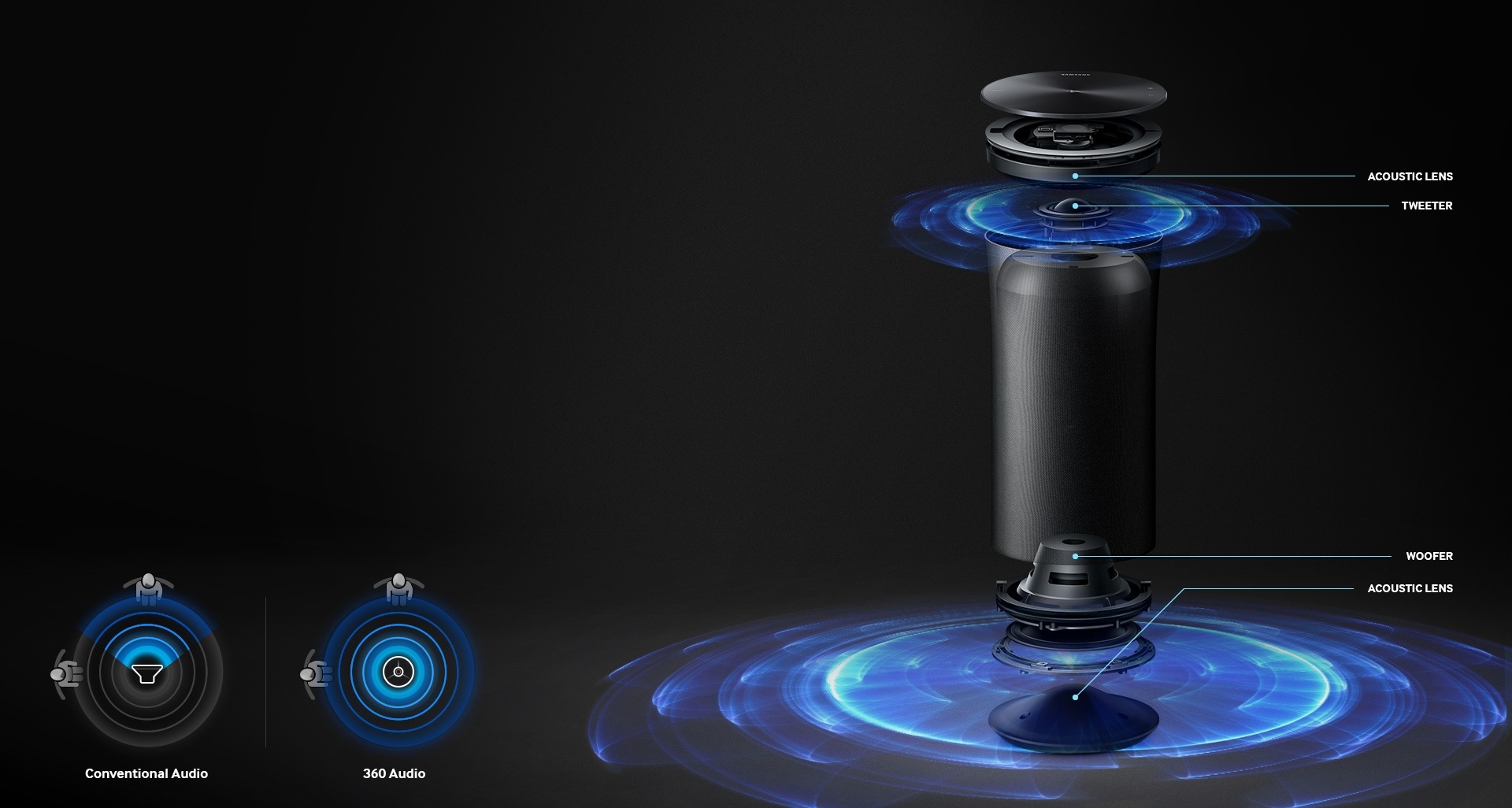 Simple Premium Design
Featuring a bold yet simple upright design, the R3 adds a touch of premium refinement to any counter or table. Its smooth top panel features an OLED display and acts as a control surface, merging function with design.
Easy Intuitive Control
Navigating your music is easy with the R3's intuitive top panel interface. Simply tap to control playback, swipe to play the next / previous track*, and touch Mode to toggle between Wi-Fi, Bluetooth, and TV SoundConnect. And for ease of use, an OLED display lets you know the device's status.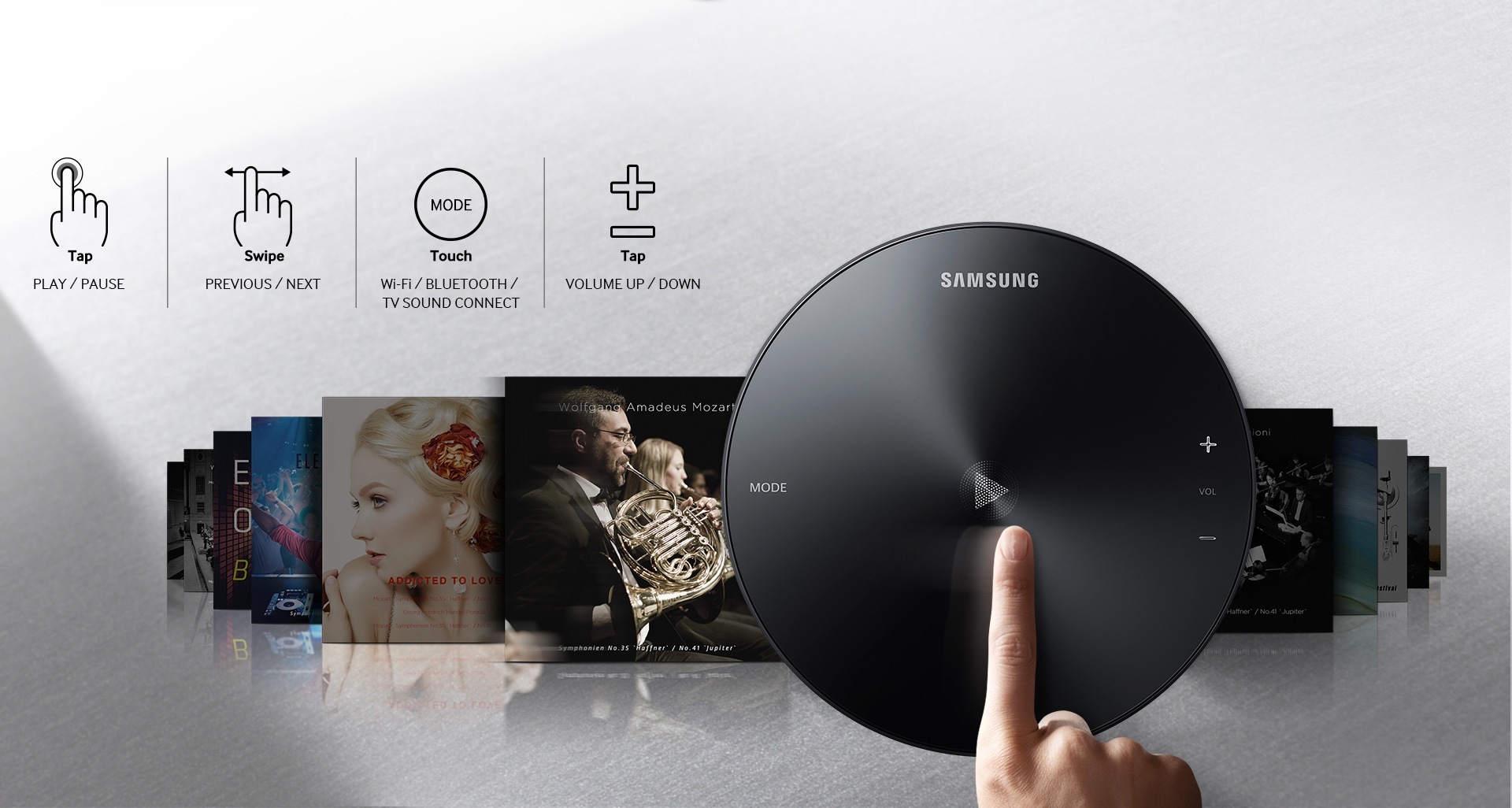 * Next / Previous function may be limited according to CP (content provider) services.
Multiroom App
Access music more simply with an easy setup* and the new intuitive UI of the Multiroom App. Features include touch wheel dial navigation for smooth song selection, direct play from the home screen upon launch, and fast switching between menus.
* Available only for 2015 Multiroom Audio products.
Multiroom App for Smartwatch
Control your music directly from your wrist with the Multiroom App, now available for the Samsung Gear S and the Apple Watch. Leave your smartphone behind and use the watch controls to make quick selections from the song queue list, speaker list, and control playback and volume instantly.
* The Smartwatch Multiroom App can only be used after you generate a song queue list and start playback using the Mobile Multiroom App. ** Smartwatch compatibility may vary by region.
Multiroom Link*
Controlling and sharing one music source across multiple audio devices** in various locations is made easy with the Multiroom Link solution, thanks to Samsung's Multiroom App. Remotely control the music on your TV, Soundbar, HES, BDP and more.***
* Multiple devices required for operation. ** Available only for certain Samsung devices. For a complete list of compatible devices please visit www.samsung.com/za. *** TV and Blu-ray player products can only serve as sound sources for compatible Samsung audio devices and not as output devices. HES can be controlled with the Multiroom app only when used in conjunction with compatible Samsung audio devices.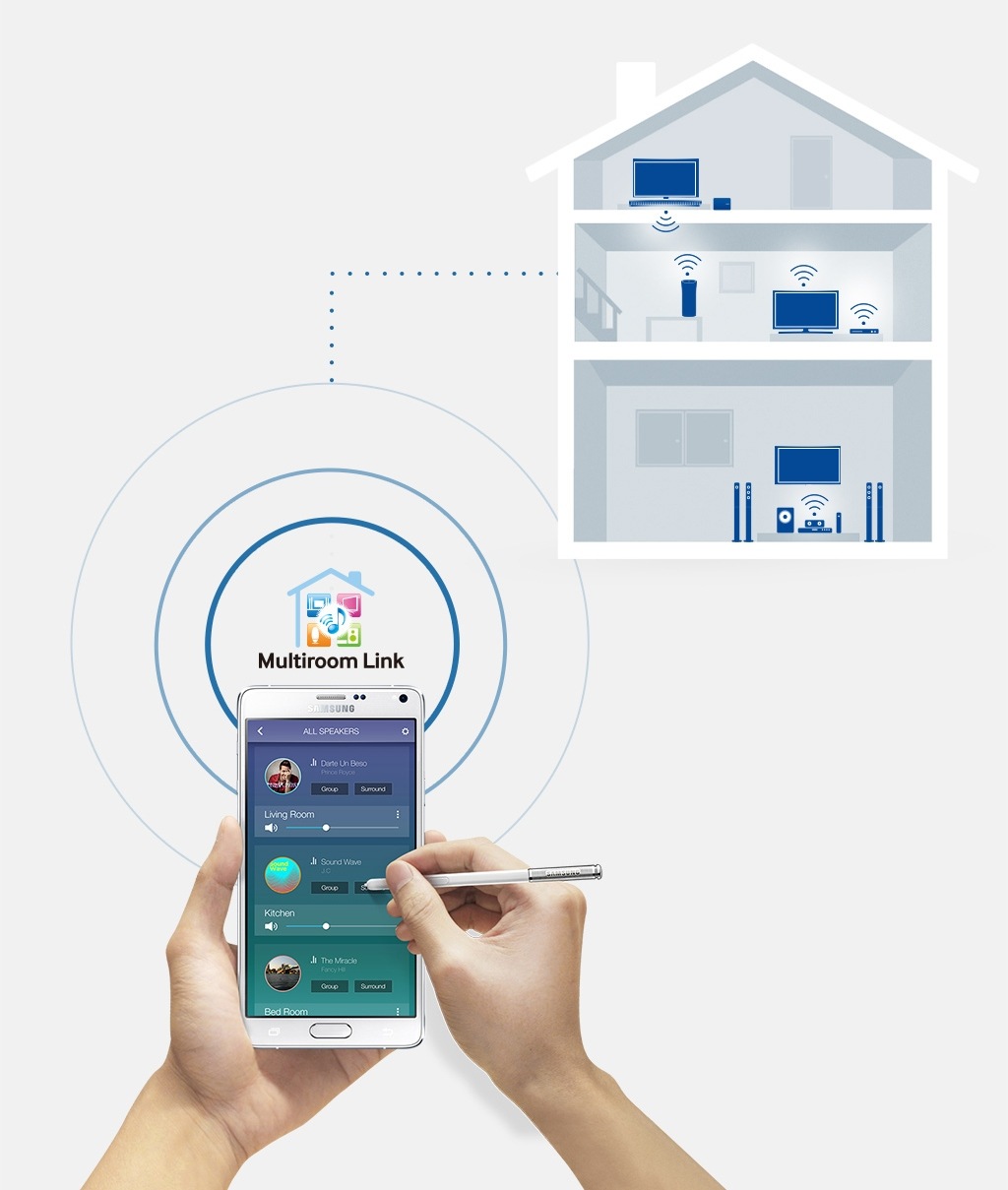 Wi-Fi Connectivity
Wireless Audio – 360 supports Wi-Fi connectivity with your smartphone and tablet for a seamless, high-quality audio experience. You can even pair multiple Wireless Audio – 360 speakers simultaneously to enjoy music your way. (Bluetooth also supported.)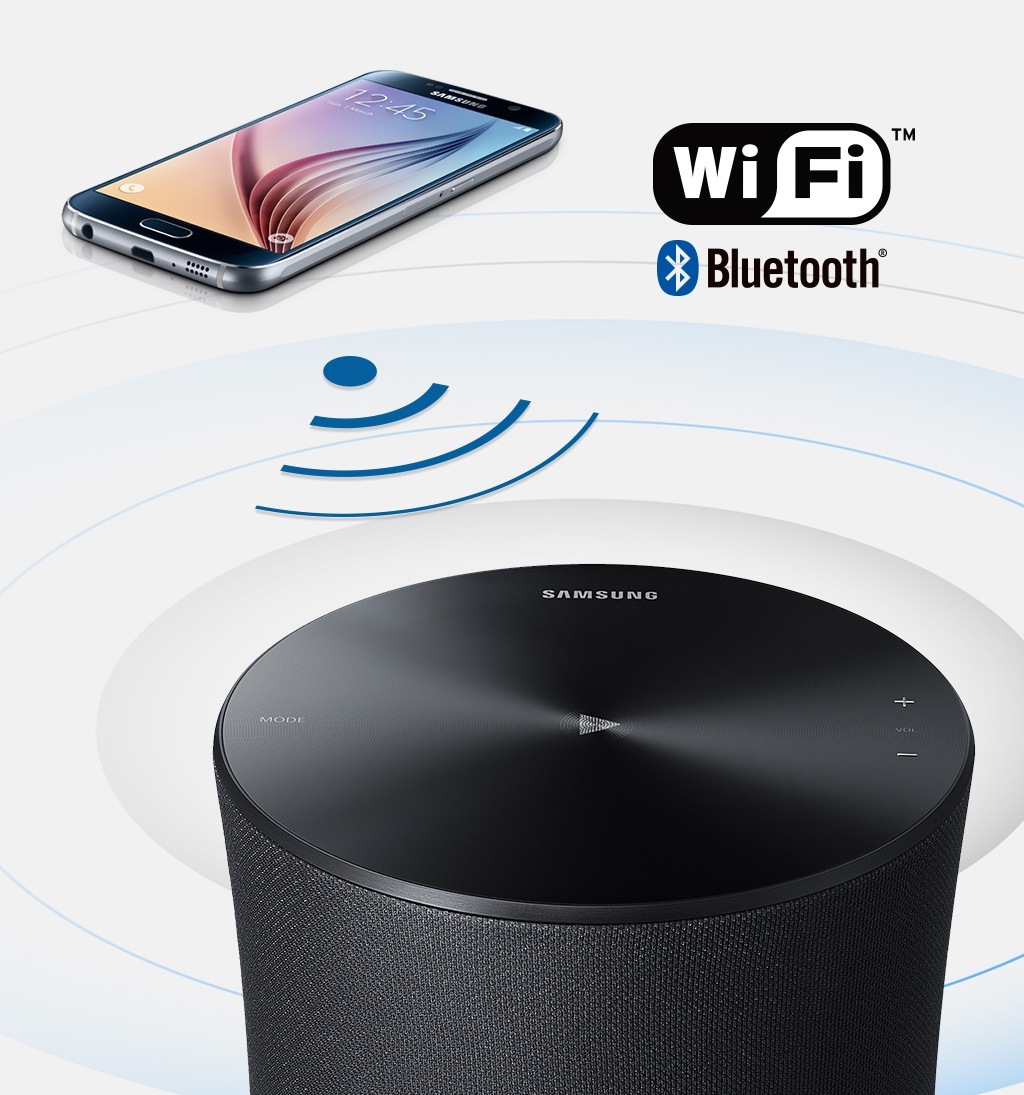 Specification:
Wireless Audio-360 WAM3500
| | |
| --- | --- |
| General Feature | Omni-Directional Sound |
| Decoding Format | AAC: DRM-free only, MP3 Up to 320 kbps, WAV Up to 192 kHz / 24 bit, OGG, WMA, FLAC Up to 192 kHz / 24 bit, AIFF Up to 192 kHz / 24 bit, ALAC Up to 192 kHz / 24 bit |
| Audio Feature | HD Audio (High Resolution Audio) |
| Connectivity | TV SoundConnect, Bluetooth, Wireless LAN: Built-in (2.4 / 5 GHz Dual Band) |
| Control Device | Android 2.3.3 and above, iOS 6.1 and above |
| Speaker | Tweeter 25 mm (1 ea), Woofer 103 mm (1 ea) |
| Power | Stand-by Power Consumption: 3.6 W, Operating Power Consumption: 18 W, Free Voltage |
| Accessory | Remote Controller: Remote App (iOS / Android), Power Cable |
Dimensions
| | |
| --- | --- |
| Weight | 2 kg |
| Dimensions | 14.4 × 27.3 × 14 cm |